last night at knitting group i got such a lovely surprise from my friend
julie
, she made me a going away present! how sweet! she made this cute little bag, which is the perfect size might i add. and a cowl from yarn i gave her :) hehe. now that i see this yarn all knit up, i must say, i have good taste!!! ;) it's perfect. a girl can never have enough cowls in my opinion. here are the lovely things...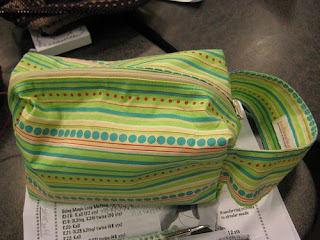 i love the little speckles in the yarn
she makes her own tags! get outta here with that cuteness...
and i got going with my monster for william.
shawn
helped me out with this one. the legs were kind of tricky, and it was my first time doing magic loop (!) somehow i got the needles all backwards, insideout, upside down, who knows. but with shawn's help, i was on my way! nice. i think it's going to be so cute, i'm not sure what i'm going to do about the eyes. they suggest using 'safety eyes' but i think i might just stitch some on. we shall see!
right now it just looks like a little pair of pants. :)
<3